This tutorial will show you how to install the eBox Desktop Client Software on macOS Ventura
System Requirements:
At the time of this writing, the latest macOS is Ventura 13.0.1, please make sure your computer is updated to the latest version of macOS to ensure the screenshots below match.
Minimum Internet speed 10 Mbps download / 1 Mbps upload per user (for example: if your office has 5 users, you need a 50 Mbps download / 5 Mbps upload speed), the faster the better.
Minimum 8GB RAM (16GB or more if you run lots of apps at the same time)
5GB of disk space available for the eBox Cache
There can only be one eBox user setup per computer (you cannot log in and out with different users).
Step 1: SIGN IN to the eBox Website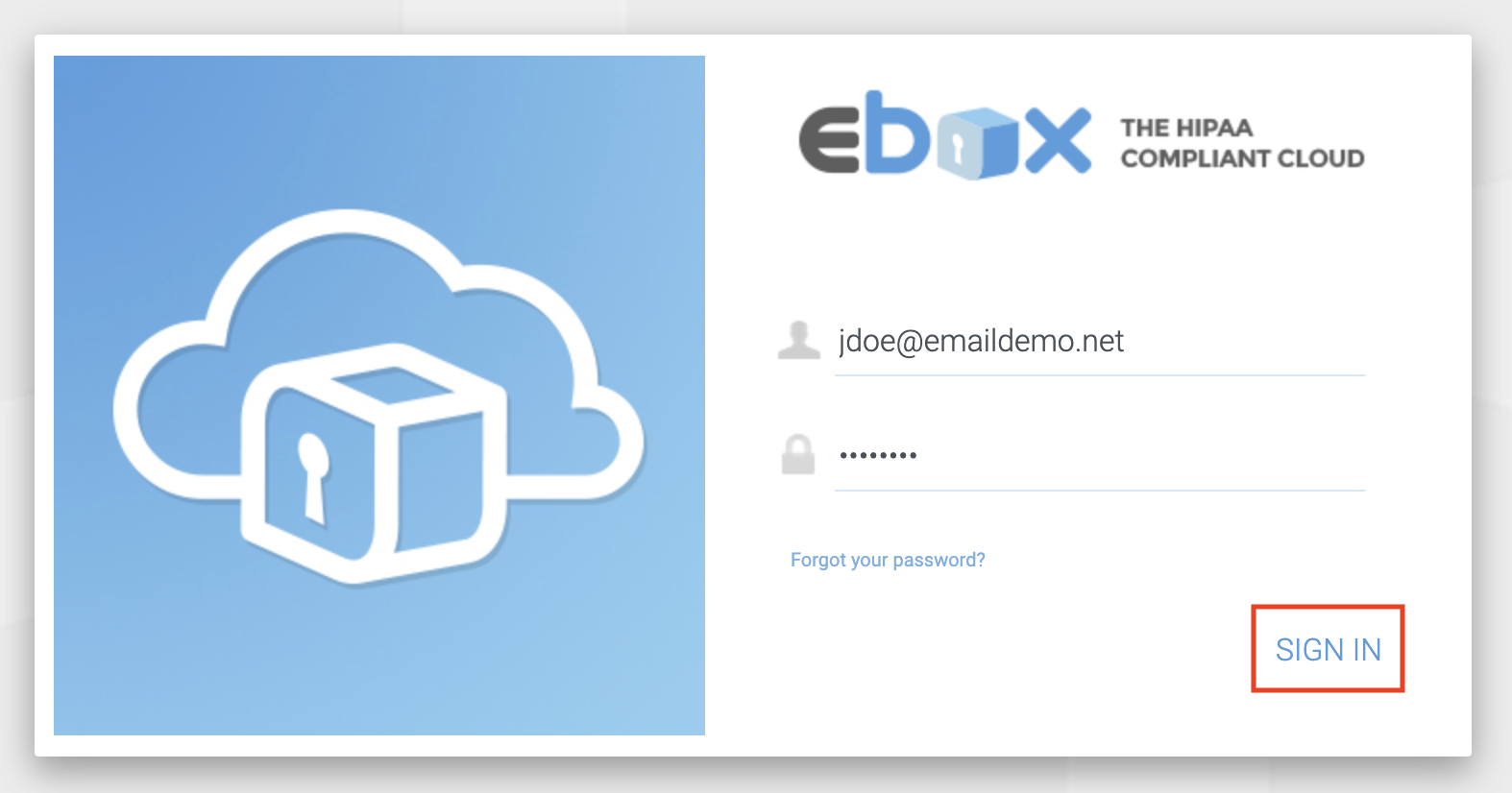 Step 2: Click Install Mac Client (left side)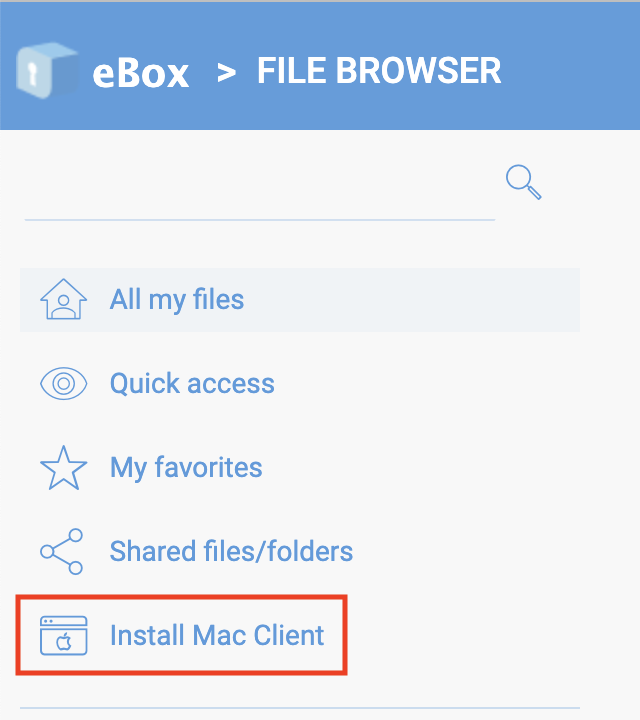 Step 3: Download the Installer Package (MacOS 10.13 and above) [select the bottom link]
Step 4: Double click the downloaded dmg file to open the installation package. Double-click the package box.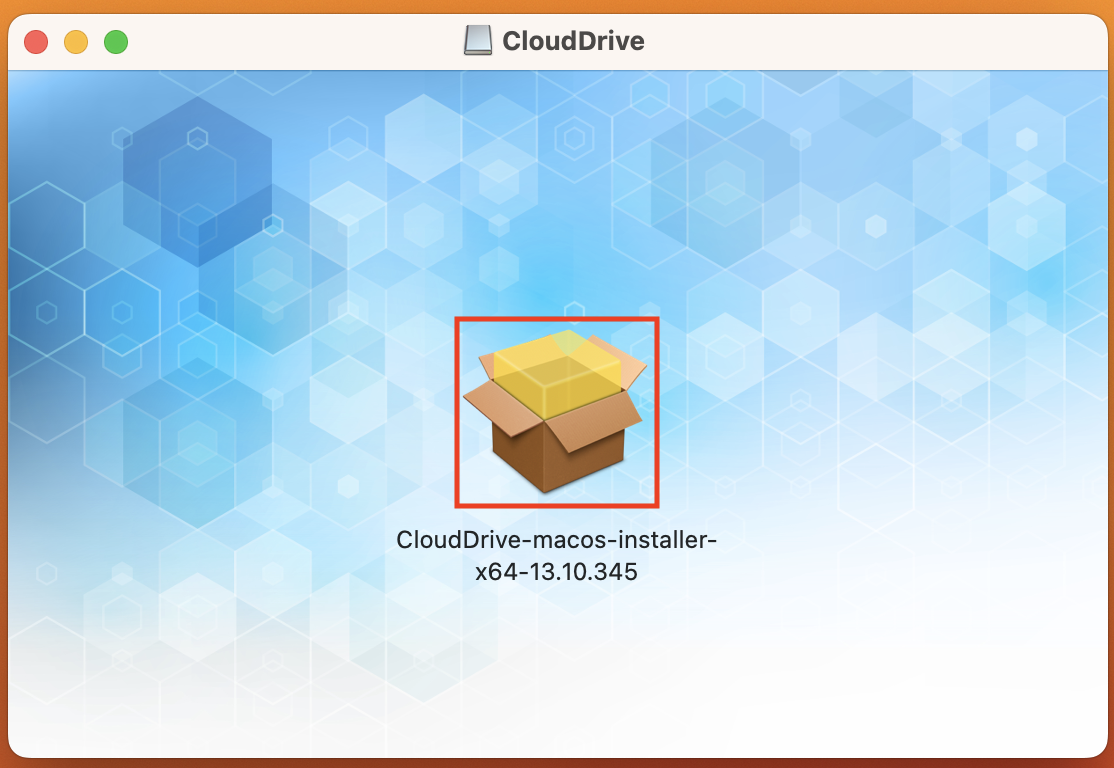 Step 5: If your computer's CPU is M1/M2, the installation will prompt to install Rosetta, which is required for non-Intel CPUs.
Click Install
Step 6: On the Introduction page, click Continue
Step 7: On the License page, click Continue
Step 8: Agree to the terms of the software license agreement.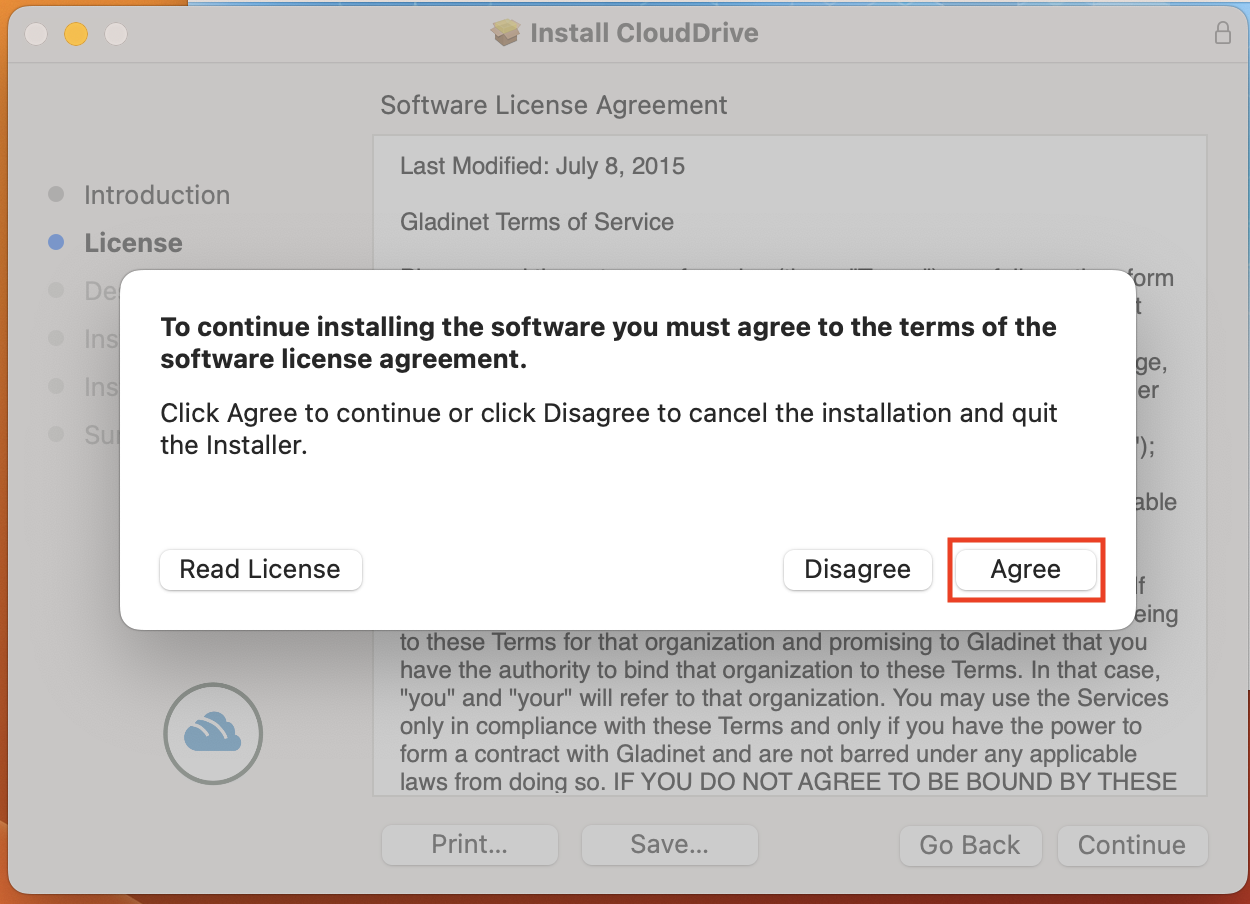 Step 9: Click Install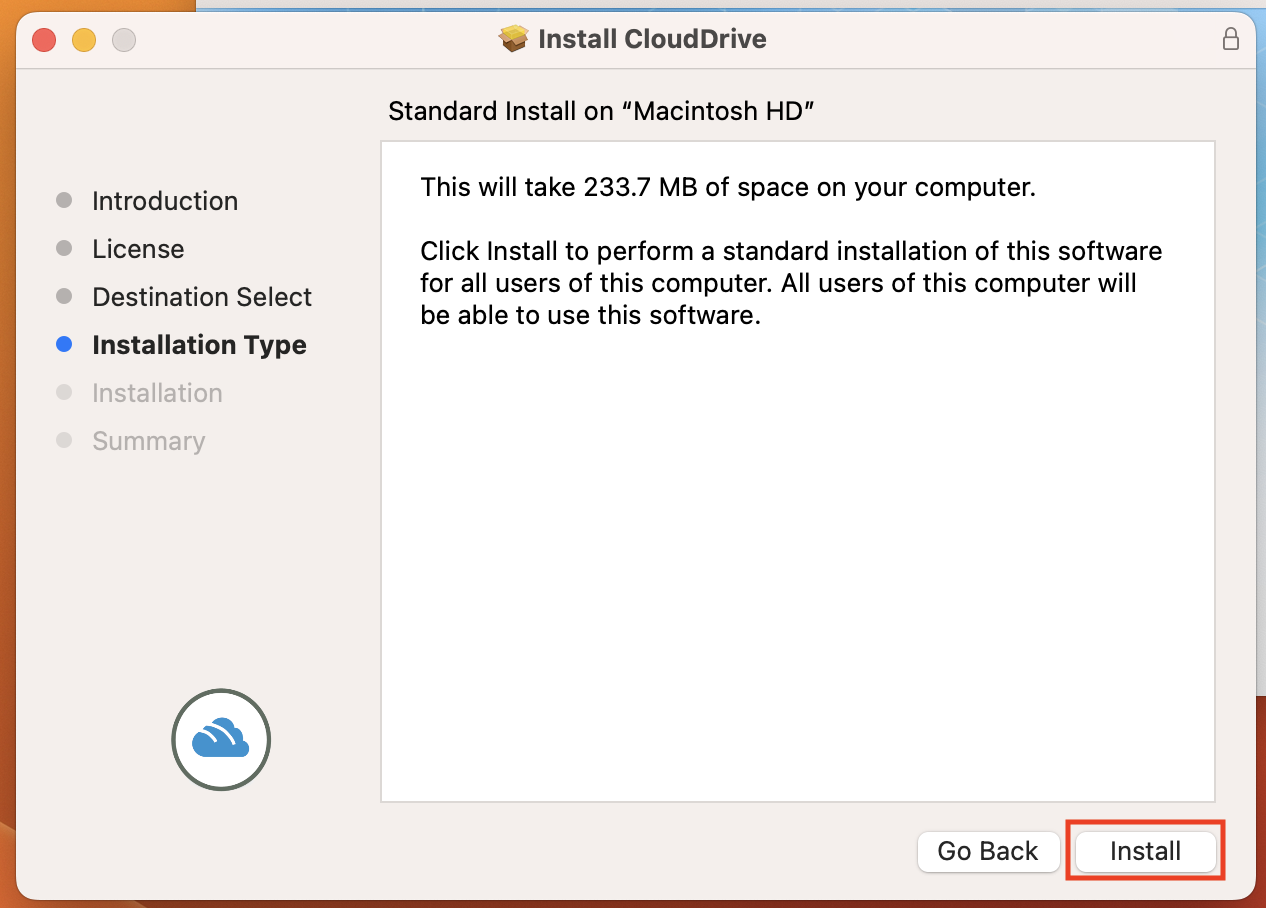 Step 10: The installation will install Cloud Drive Mac Client under Applications.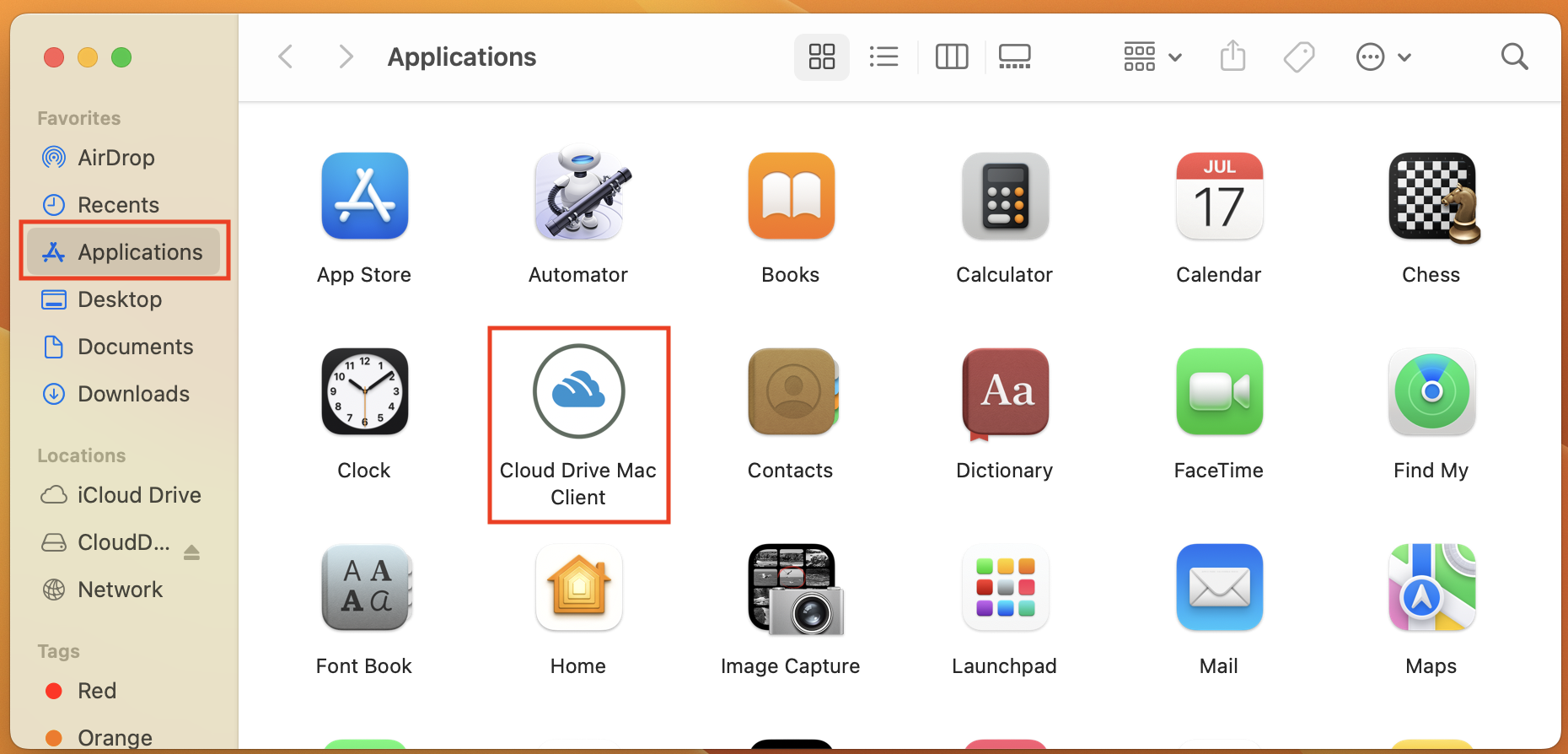 Step 11: At the end of the installation, click Close.
Step 12: Eject the CloudDriveInstallation under Locations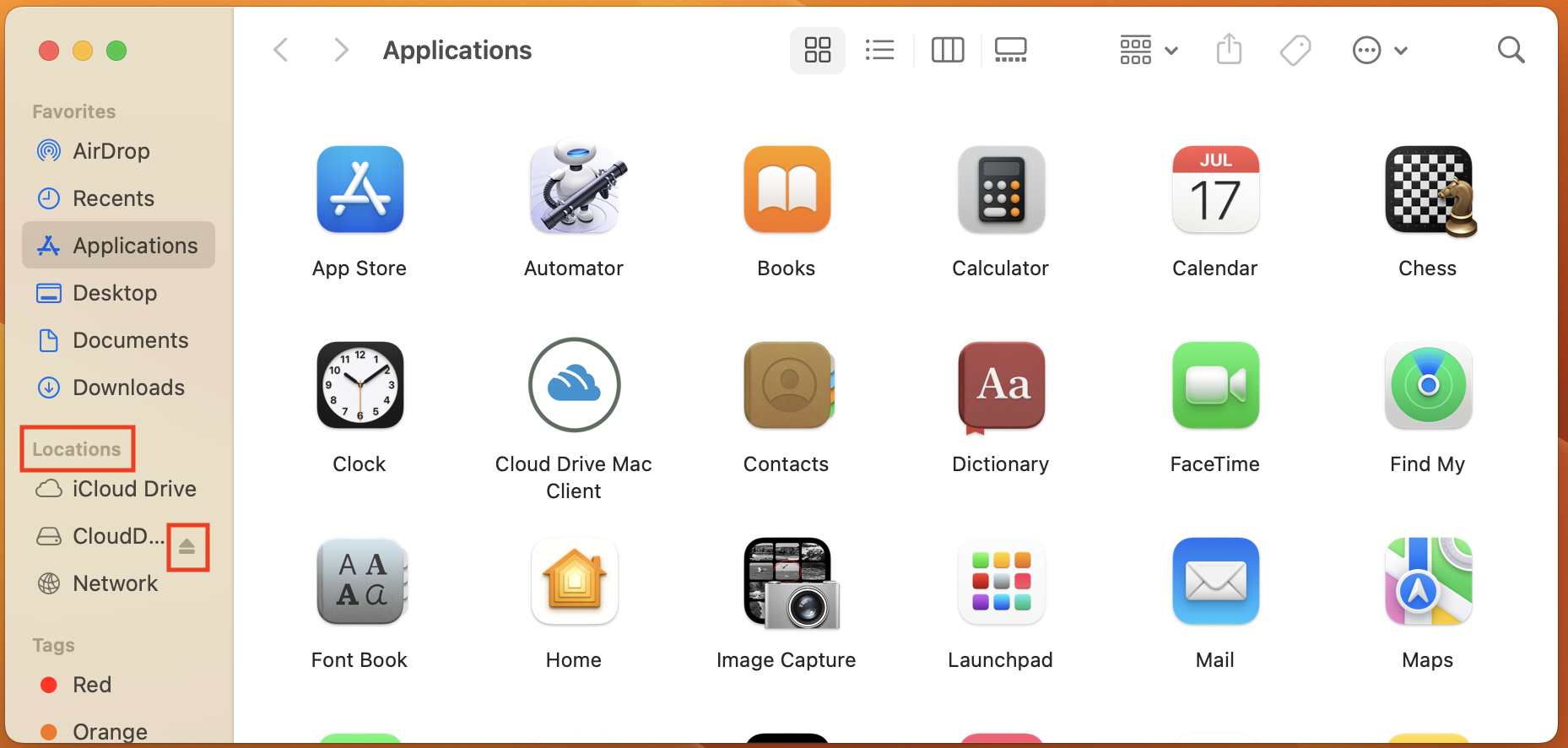 Step 13: Open System Settings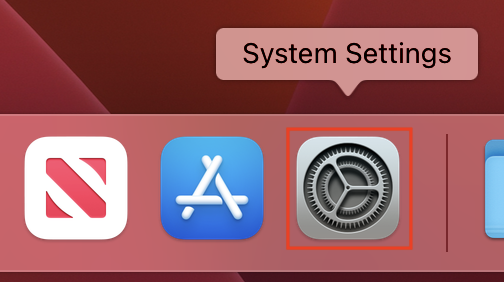 Step 14: Search for Extensions
A: Enter Extensions in the search box
B: Select Extensions
C: Click Added extensions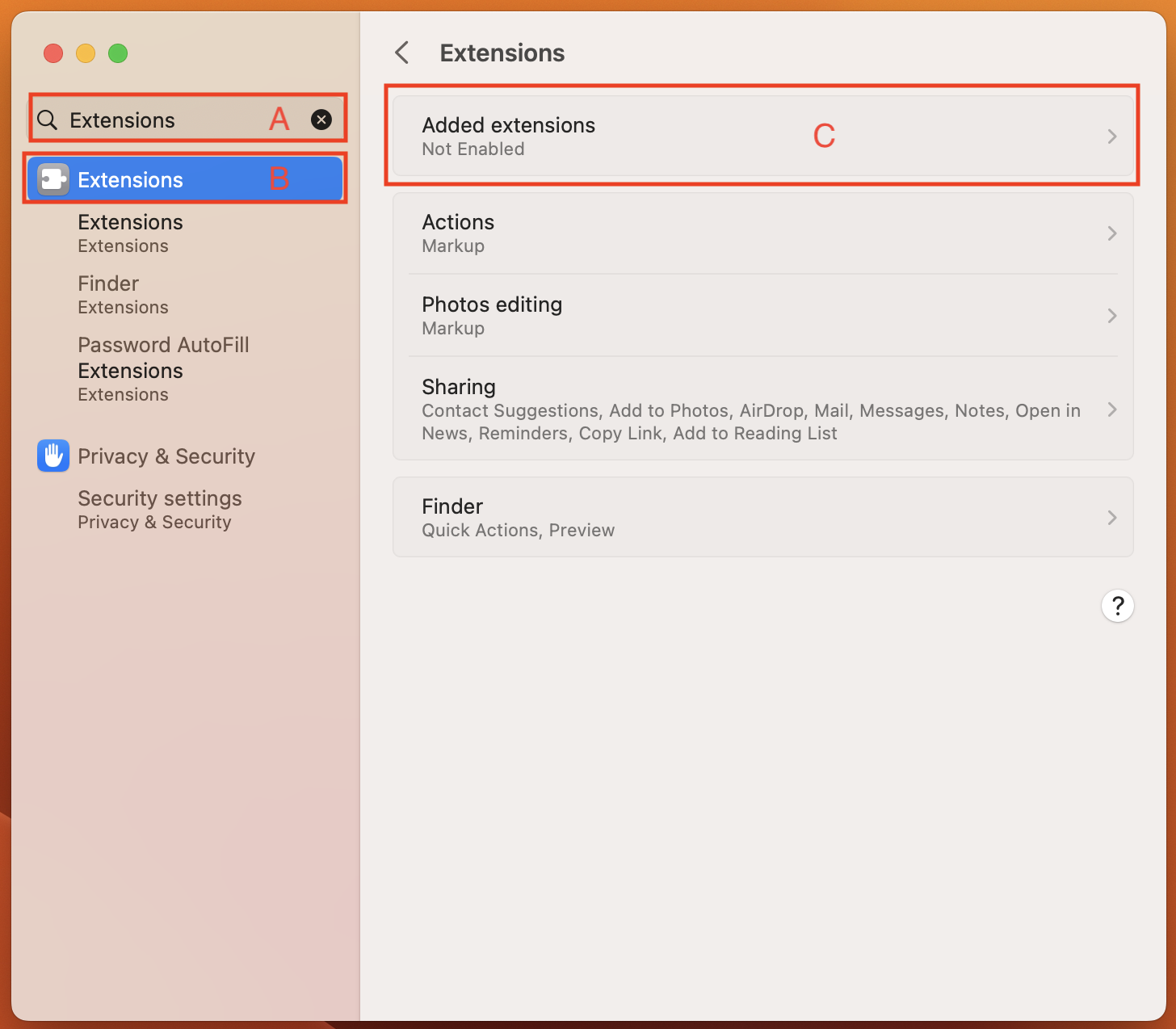 Step 15: Enable Finder extensions under Cloud Drive Mac Client
Click Done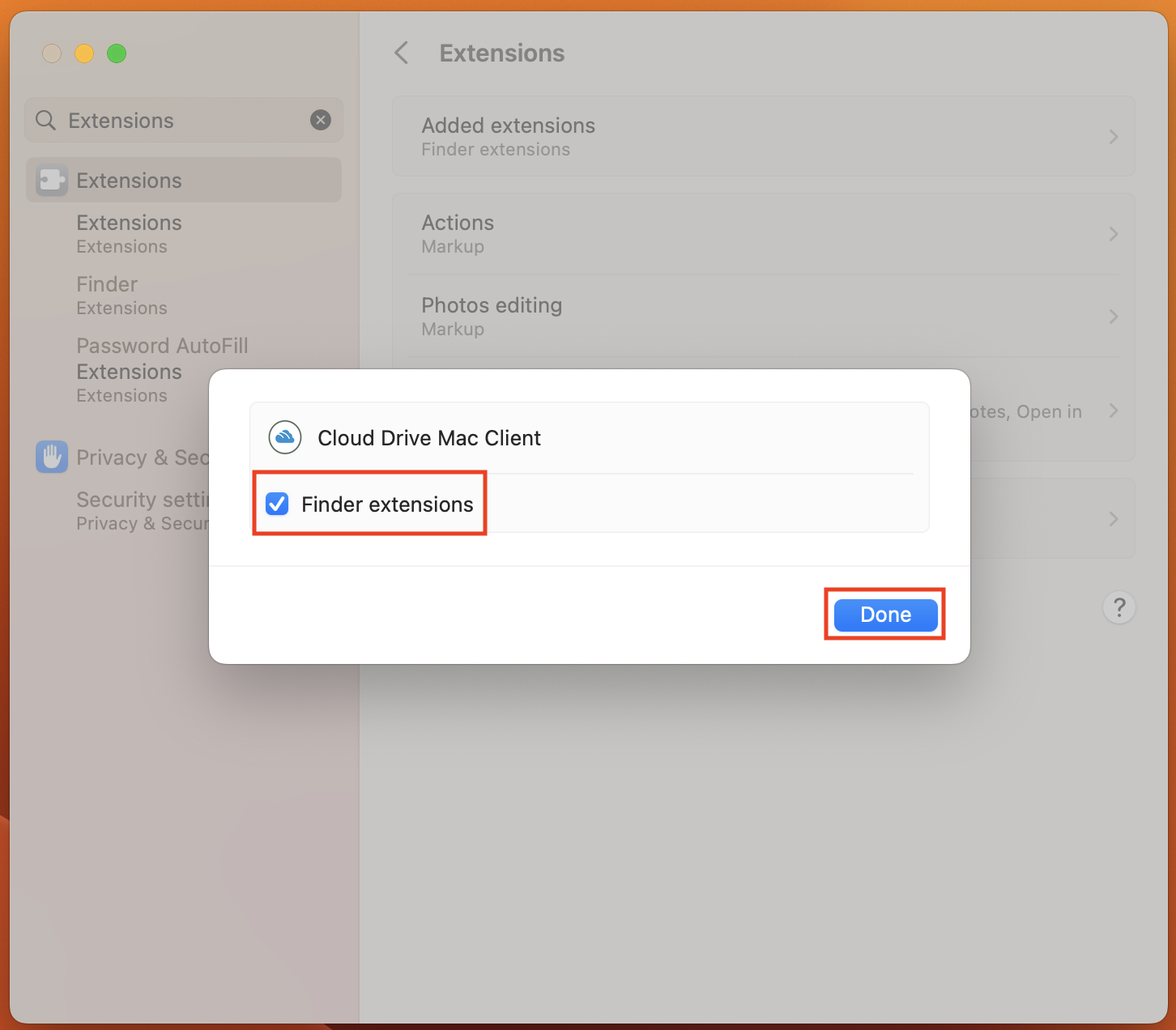 Step 16: To launch the eBox Mac client, under Applications, double click Cloud Drive Mac Client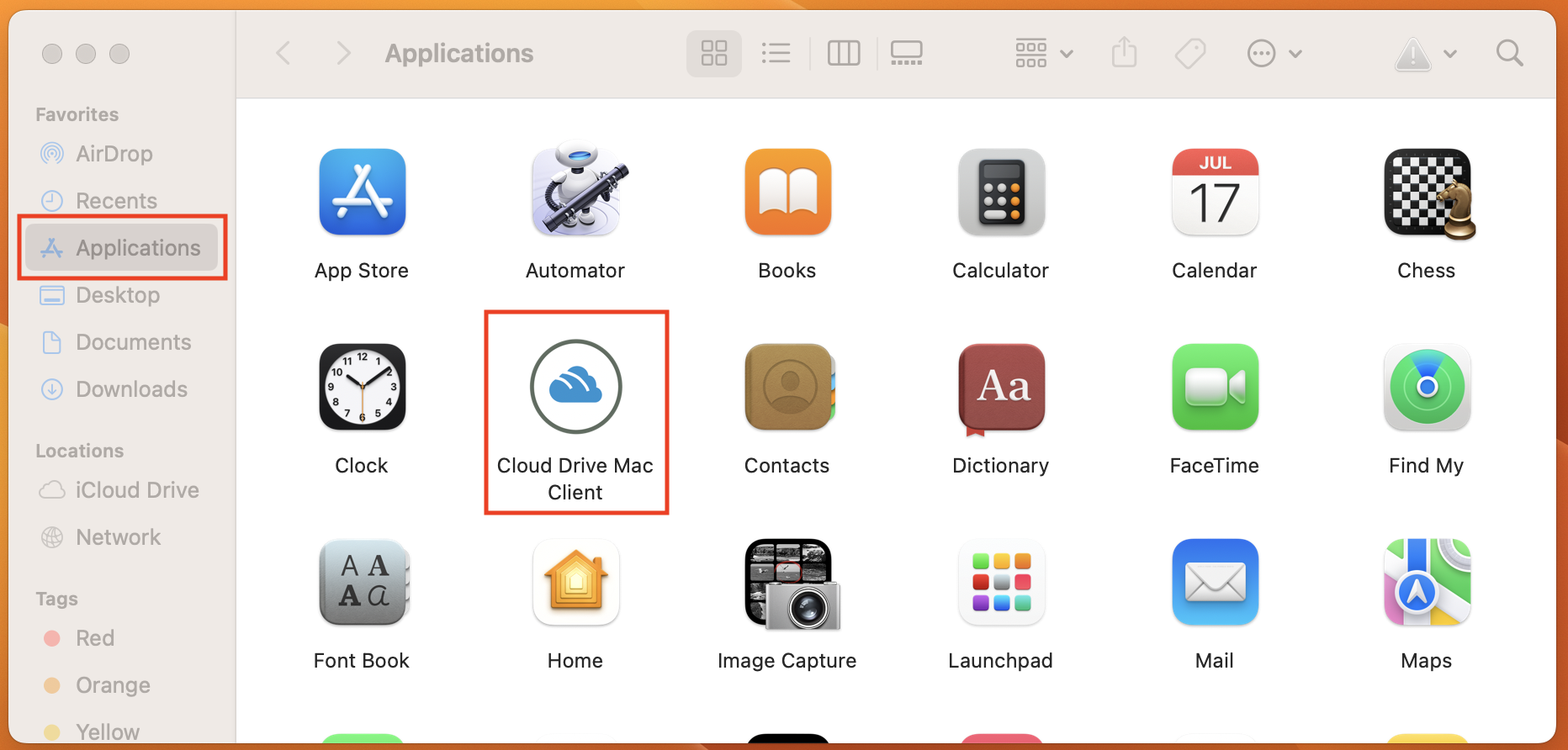 eBox will automatically launch when your computer starts.
Step 17: There will be a shortcut placed on your desktop and top right menu bar.
Step 18: Open eBox Drive from the top right menu bar.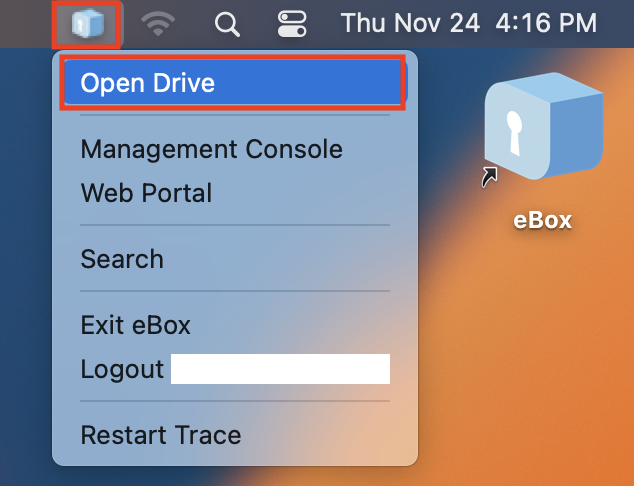 Step 19: At this prompt, Click OK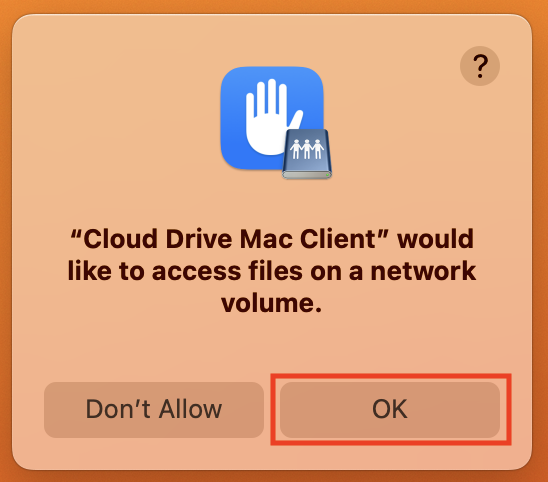 Step 20: In System Settings, click Privacy & Security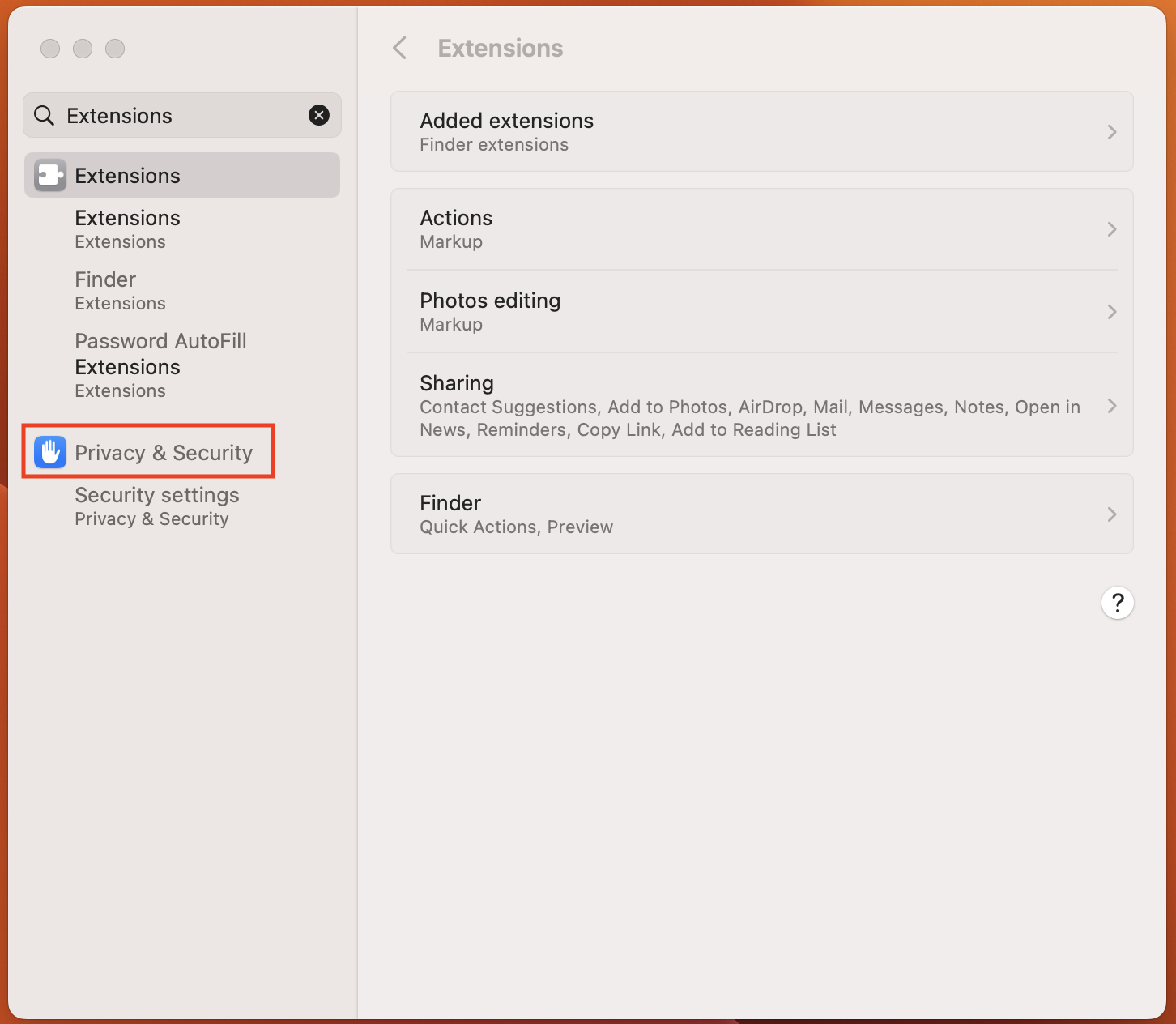 Step 21: Scroll up on the right side, click Full Disk Access
Step 22: Click the + button
Step 23: Select Applications, select Cloud Drive Mac Client, click Open
Step 24: Click Quit & Reopen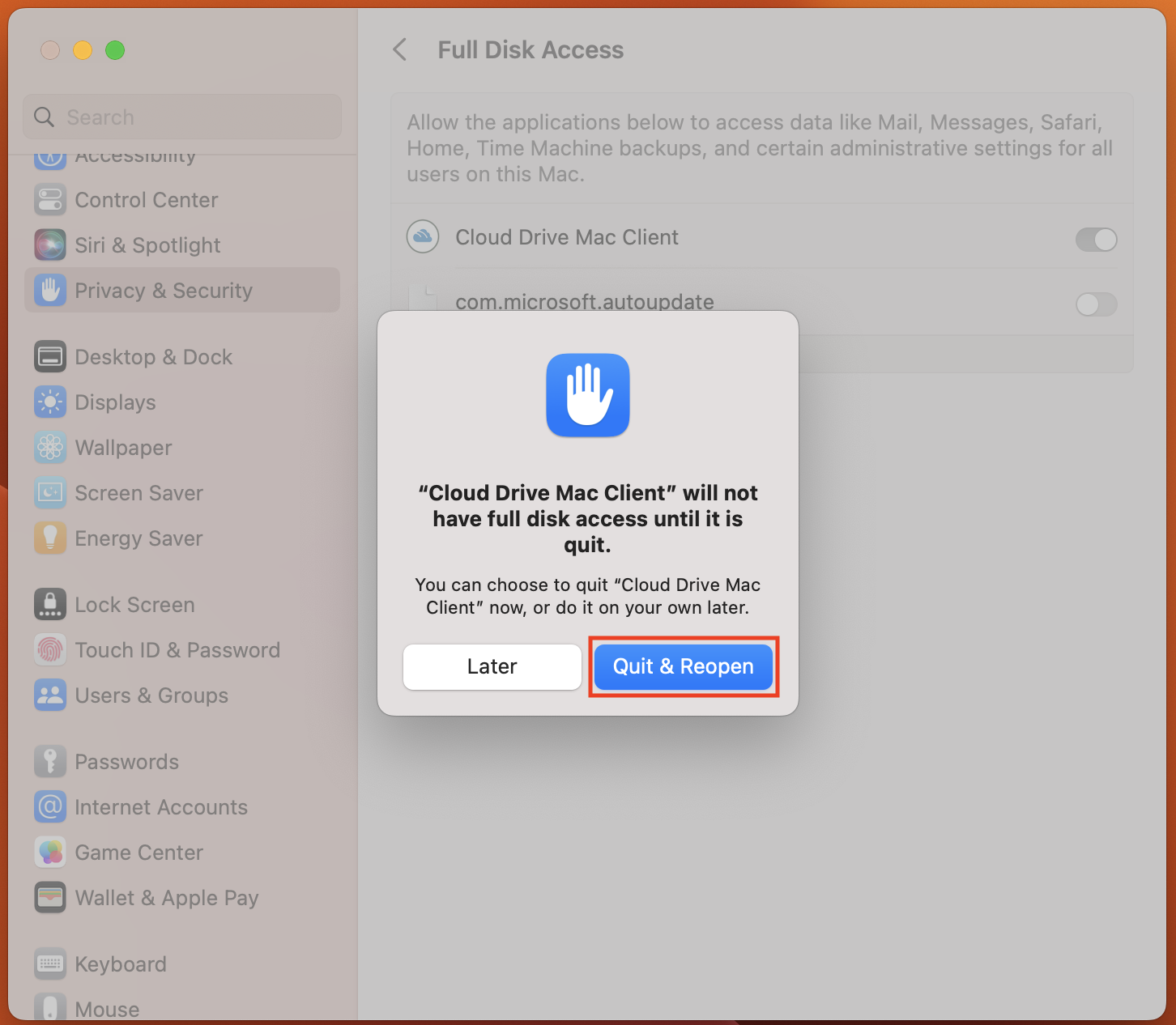 Step 25: For easy eBox access in Finder, drag the eBox shortcut into Favorites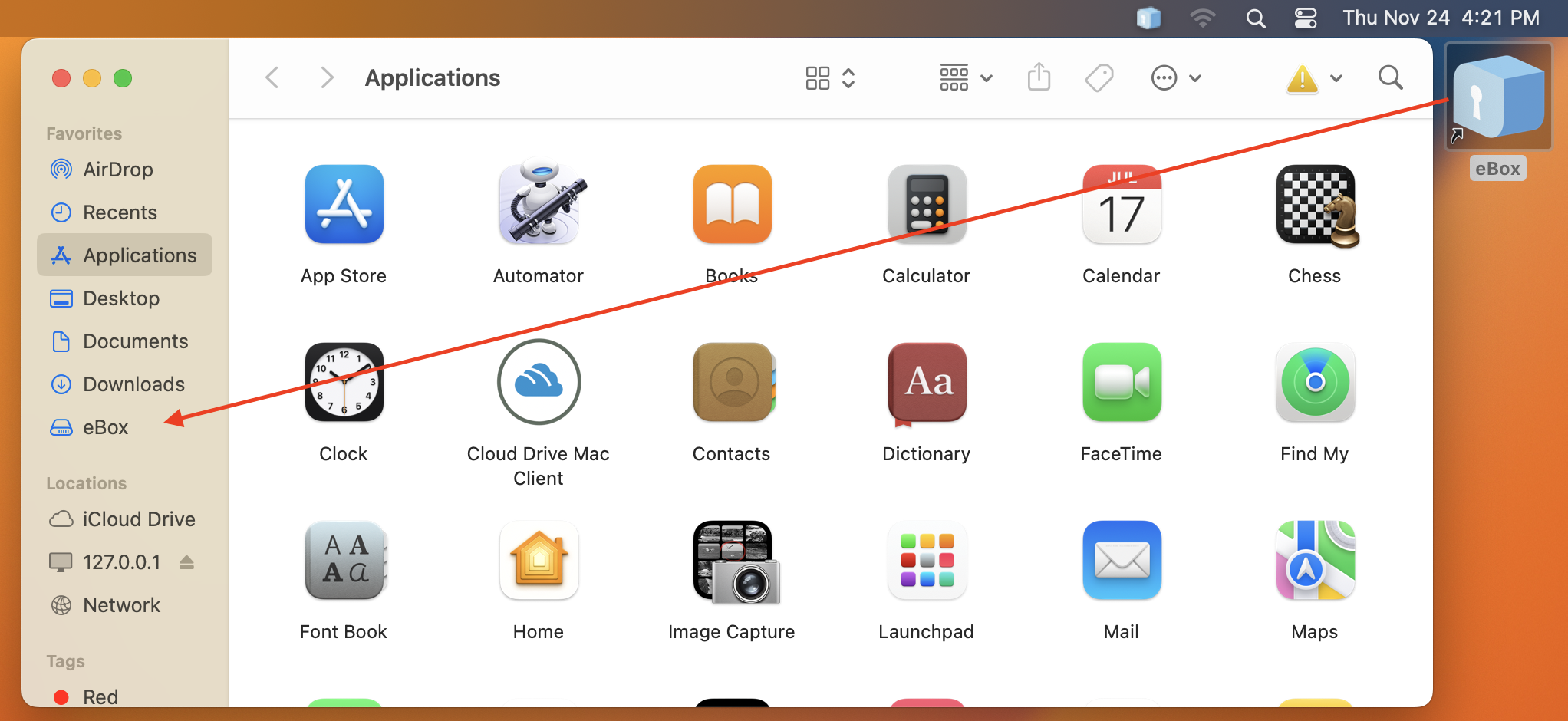 Step 26: When you see this notification, click on the Options drop-down menu and select Allow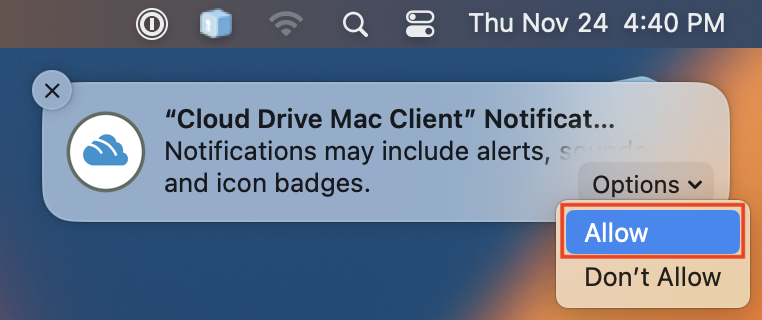 Frequently accessed files are stored in your 5GB eBox Cache, on your physical storage drive, this allows quick access to those files, the rest of your files will remain in the cloud. Files in the eBox Cache are accessible even if you don't have an internet connection, suitable for users in the field who work with a laptop offline. Whenever you re-establish an internet connection with our servers, the files from the laptop will sync to our cloud.